TOP 10:
HESHER
When T.J. takes refuge in an under construction development to escape the grief surrounding the loss of his mother, he comes face-to-face with a tattooed, shirtless squatter called Hasher. A sad portrait of mental suffering, captured with considerable skill and blissfully bereaved of sentimentality, Hesher is equal parts bleak and amusing. The movie is elevated by the talented Joseph Gordon-Levitt in the title role. He's adept at creating engrossing, chaotic personalities.
MEEK'S CUTOFF
Settlers wagon-training the Oregon Trail in 1845 find themselves stranded among the dirt and rock of the Cascade Mountains. Intensely slow in pace yet more harshly realistic in its depiction of life on the frontier than anything produced by Ford or Hawks; more creatively audacious than any film made this year. Consider that Kelly Reichardt shot in the 1:1.33 aspect ratio used in westerns made prior to the 1950s so as to accentuate the anxiety of her characters and the claustrophobia of the bonnets worn by the females of the time rather than in a wide-screen format expected by viewers. Scenes taking place at night seem to be lit by little more than the moon, the characters and their actions engulfed in darkness. The conversations of the men are shown from the point of view of the women. They, along with us the audience, struggle to pick up on what is being said.
SHAME
Shame is a disturbing film about a sex-addicted New Yorker (Brandon) whose seemingly prototypical yuppie lifestyle is disrupted when his sister, Sissy, shows up on his doorstep. At the center of the film is Michael Fassbender's courageous, uncompromising performance. Something happened to him as a youth that has caused him to disconnect from society. His sister is in desperate need of his love. He fears need. There is a moment in the film where Sissy sings an extremely slowed-down version of "New York, New York" that bleeds the song of its grandiosity and transforms it into a profession of sorrow. Brandon's reaction is to cry. His shame remains hidden from the world. He is incapable of making a similar admission.
MELANCHOLIA
Melancholia is a chillingly beautiful examination of depression that is as likely to anger fans as it is to move them. Kirsten Dunst sheds her popcorn persona and begets an infallibly sobering portrait of an oft misunderstood disorder. The opening moments portend the fate of the characters via a series of gorgeously slow-moving images that show the protagonists sinking in the green grass of a nightmarish meadow and being hindered by the vines of a fantastical forest. It culminates with an emotionally charged moment that will carve its way into your subconscious and linger there for days after viewing.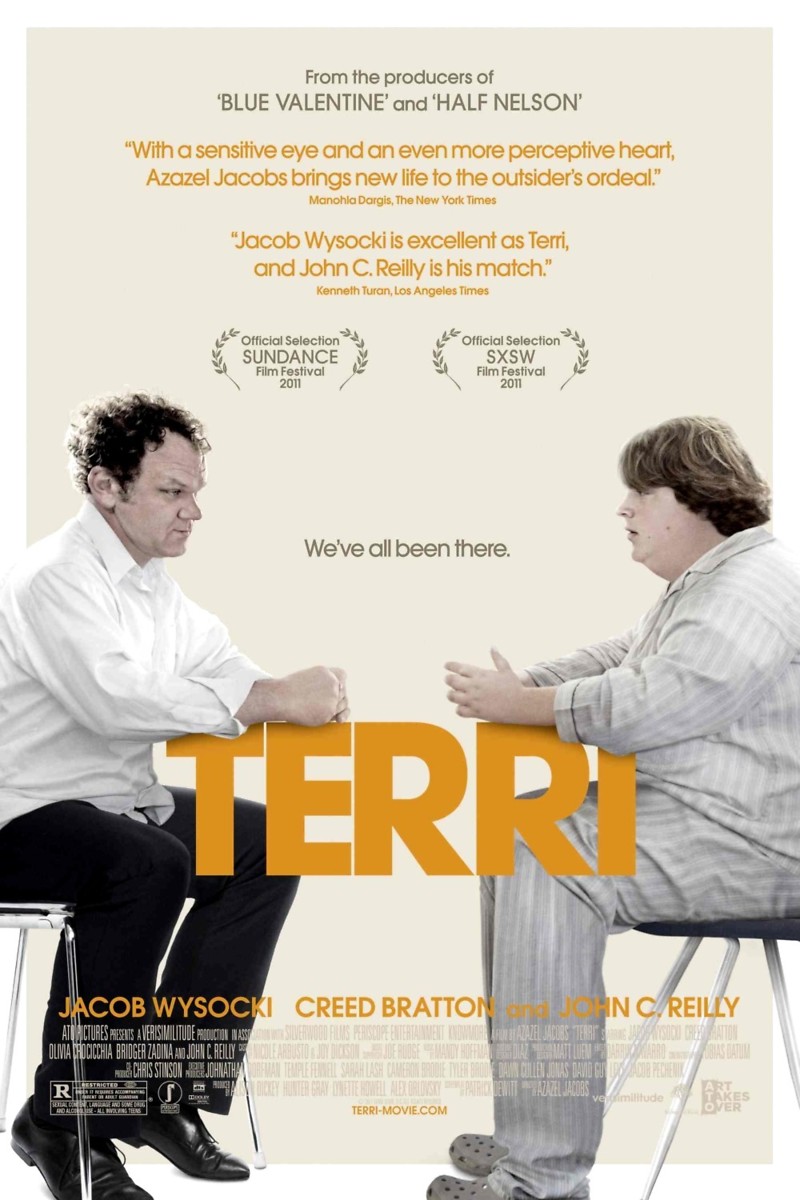 TERRI
So Terri's a misunderstood youth that is consistently late, has stopped showing an interest in his assignments and has begun to wear pajamas every day. His recent behavior has caused a couple of "red flags" to pop up in the mind of the school administrator. Mr. Fitzgerald goes out of his way to become not just a principal, but a princiPAL, offering benevolence and personal experience in an effort to communicate with Terri. It is a subtle, charming examination of the awkwardness of the high school experience.
WARRIOR
War hero and former wrestling prodigy Tommy Conlon returns home to enlist the assistance of the alcoholic father he escaped from years earlier in training for an MMA competition. Brendan Conlon is an ex-professional fighter turned high school physics teacher who enters the same tournament in the hopes of avoiding bankruptcy. They confront each other, and their broken past in the ring. Exceptionally good of its type thanks to its top-notch performances (Nick Nolte has perfected the pitiable lush), a sober soundtrack (with contributions from The National) and honest direction. Its compassionate underdog story and cathartic ending rival those of Rocky. I honestly did not know who was going to win, nor did I favor one brother over the other.
DRIVE
Ryan Gosling is The Driver, stuntman by day, getaway driver by night, he finds himself in trouble after helping out his beautiful, young neighbor. Nicolas Winding Refn's direction is as calculating as his star; his affection for violence as uncompromising as his lead. He gleefully mixes genre fare with art-house style atop an 80s-style soundtrack en route to producing a patient, but taut thriller. You feel as if you're cruising through a game of Grand Theft Auto. Gosling is terrific in the role of the existential hero. He has no connections, no background, not even a name. He is seemingly void of emotion. He is the exact opposite of the Jewish gangsters (excessively portrayed by Albert Brooks and Ron Pearlman) that oppose him (and nearly ruin the movie).
TYRANNOSAUR
Joseph (Peter Mullan) is hamstrung by alcoholism and a volatile temper. Hannah (Olivia Colman) is a Christian thrift shop owner in an abusive marriage. Together they find salvation. As the aesthetically elite prep to lavish each other with gifts of precious metal, the indelible performances of Mullan and Colman go unnoticed. Director Paddy Considine captures their growing anguish in extreme close up, focusing on their wounds and blemishes. It is grim and dark and sad and foreboding, but ultimately, it has an encouraging message.
MIDNIGHT IN PARIS
Gil (Owen Wilson) discovers his life and new fiancé are not so perfect when a magical cab swoops him away to 1920s Paris. Midnight in Paris is a charming, offbeat comedy that invites viewers to share in Gil's love of the city. As Woody Allen doubles go, Wilson is excellent, tapping into the compulsive thoughts and feelings of the famed filmmaker. There is something very entertaining about the idea of a blogger-age writer coming face-to-face with the iconic artists of the lost generation. Woody's best movie in years.
STAKE LAND
Here's the deal on Mister: he looks like Charles Bronson only his lip fro isn't as thin and Asiatic as Bronson's was throughout his career. But Mister definitely puts in time on his chin pedestal.
We start off with an eczema-faced dude biting into a crying baby, but before he can finish the job, Mister shows up and splits his face with a round-headed shovel before running a couple of his buddies through with a machete. Next, Mister takes the monsters' young kin under his wing, making it his undying (fingers crossed) mission to transport him to the continent's "New Eden."
A sharp script, intriguing characters and gory suspense provide a fresh edge to an otherwise familiar story. It's a cross-breed of vampire legend with apocalyptic scenarios that is both ferocious and lyrical. It's just maybe the best tear-your-jugular, booze on blood vampire flick since Let the Right One In. A scene that witnesses a fundamentalist militia dropping vampires on a small town like nuclear bombs is worth the price of admission.
HONORABLE MENTIONS:
MARTHA MARCY MAY MARLENE
A troubled young woman struggles to re-connect with her family after escaping an abusive cult. A haunting, deliberately-paced depiction of a disturbed mind. Martha is her birth name. Marcy May is the name given her via the evil, manipulative cult leader. Marlene is the name used by all the women in the cult upon answering the phone. Elizabeth Olsen, who is much hotter than her famed sisters, is also much more talented. Her powerful, hypnotic performance is among the best by a female this year.
TAKE SHELTER
Plagued by early onset schizophrenia, a young father and husband must decide whether to
empty his savings on a shelter to protect against a storm that has been haunting his dreams. Michael Shannon is among the best actors working today. His depiction of a man slowly descending into madness is affected with pain. Director Jeff Nichols (who also teamed with Shannon on the underrated Shotgun Stories) builds suspense with deliberate care. Are Curtis's fears real? Should those around him take heed? The answers are not clear. A scene at a community dinner in which the townspeople welcome Curtis with great apprehension is spot on. And then, the end comes.
ANOTHER EARTH
Rhoda Williams (Brit Marling) peers out her car window in search of the newly discovered, duplicate planet, Earth 2 and slams into an on-coming vehicle, killing a mother and child and sending the father into a coma. Another Earth is a truly ambitious indie, both haunting and thought-provoking in its examination of our need for forgiveness and second chances. The little-known Brit Marling is terrific. A scene that sees her re-visiting the crash site is very heavy.
THE INNKEEPERS
Two employees of the Yankee Pedlar Inn attempt to confirm the ghostly legend surrounding the hotel. Director Ti West grows more self-assured with each picture he directs. He utilizes slick camera moves and empathetic characters to bring to life a classic ghost story of commendable simplicity. He employs the same deliberate pace and retro style that made The Roost and House of the Devil so enjoyable. His ability to capture the sensation of boredom is remarkable and makes the horrific moments that much more frightening.
OTHER GREAT FILMS: Blackthorn, Buck, The Descendents, The Girl With the Dragon Tattoo, Hugo, Moneyball, Rampart, A Separation, Super 8, Tabloid, Troll Hunter, Uncle Boonmee, Win Win
SLIGHTLY DISSAPOINTING: Attack the Block, Cave of Forgotten Dreams, A Dangerous Method, The Tree of Life, War Horse
SEVERLY DISSAPOINTING: Tinker Tailer Soldier Spy, The Ward
WORST OF THE WORST: Skyline, A Vanishing on 7th Street