1.
The Place Beyond the Pines
Director Derek Cianfrance's 2010 examination of a failed marriage (Blue Valentine) was received with enthusiastic approval. His second effort is even stronger. An ambitious epic about the lengths to which fathers will go to protect their sons and the emotional impressions that are produced via the decisions they make, The Place Beyond the Pines is a cinematic feat of form and beauty. Eschewing narrative convention, the story is presented like a triptych painting, with each panel being a bit more gloomy than the last. It's melancholy tone is aided by Mike Patton's somber score and Sean Bobbit's gorgeous photography. Cianfrance tells a humorous story about his decision to not use Valentine cinematographer Andrij Parekh on the film's blu ray commentary track. The choice was a good one. Bobbit's muted colors and naturalistic views allow for a picture that is both roughly beautiful and emotionally honest. Ryan Gosling gives a hypnotic performance. He and Cianfrance make a good team. Another story on the commentary track comes during a scene that sees the Gosling character witnessing the christening of his son. Another man takes part in the ceremony. Gosling strays from the script. His decision is not only more in tune with the character, it also allows for a more impressing experience for the audience.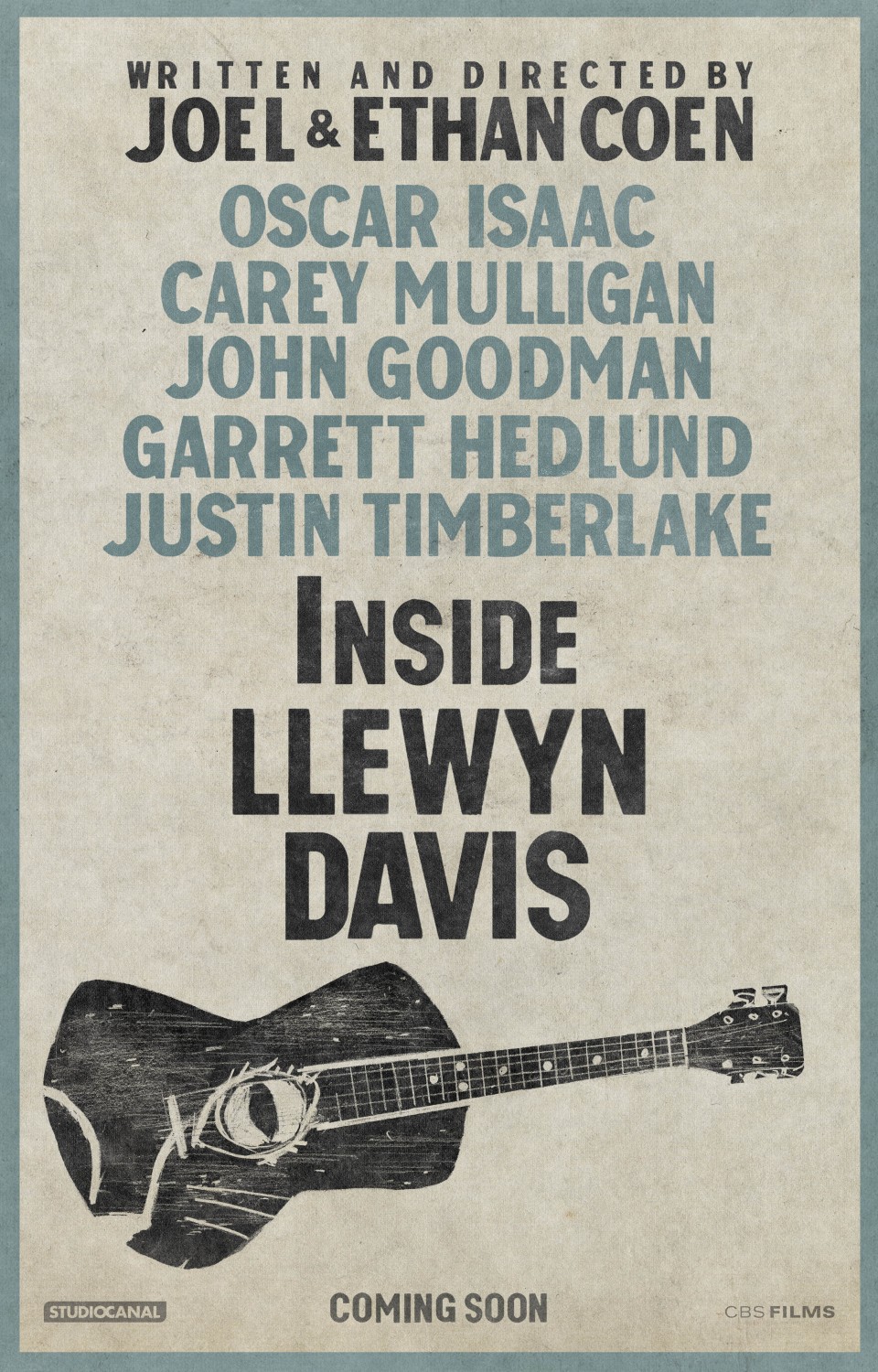 2.
Inside Llewyn Davis
A fictionalized look at the 1960s folk scene through the eyes of a struggling musician, Inside Llewyn Davis is the Coen brother's most thoughtful picture since Fargo. The Coens are completely uncompromising. There is nothing cliche in their writing. Traditional film grammar and decorum take a back seat to audacious style and daring technique. It is somewhat ironic that the inability to admit to compromise is often what hinders the progress of Llewyn in this film. One memorable moment in the picture sees a rock manager asking Llewyn if he can sing backup. Llewyn responds, "No. Well, yes, but no." Another witnesses him making the long trek back home to NY after a failed audition in Chicago. His journey is interrupted by a wounded cat that stumbles across the road and into the woods. The symbolism is abounding. Mirroring a traditional folk song in composition, the film is darkly comic, contains terrific performances and a great soundtrack.


3.
Dallas Buyers Club
Matthew McConaughey appears in three films on this list. Here he plays Ron Woodroof, a swindler living in Dallas in the mid 80s. He's diagnosed with AIDS and given less than a month to live. He employs his unscrupulous manner to work the system and obtain medication that allows him to extend his life seven years. McConaughey delivered a convoluted mess of an acceptance speech at the SAG awards after winning a trophy for best actor. There was a truth at its center, that actors hope to get that one career-defining role that transcends all their previous work and catapults them to preeminent status. This is his. The movie rests squarely on his shoulders and he delivers. Nearly as impressive is Jared Leto as Rayon, a trans-gender AIDS patient and unlikely ally who joins Woodroof in his quest.


4.
Mud
Mud solidifies Jeff Nichols (Shotgun Stories, Take Shelter) position as one of the best filmmakers working today. Drawing inspiration from Stand By Me and Huck Finn, Mud offers a poignant coming-of-age tale about those hard-to-capture feelings of love and trust. Resembling a fairy tale in makeup, its unhurried pace and arresting visual style render the unremarkable extraordinary. Marking another achievement in the career turn-around of Matthew McConaughey, the picture presents an affecting portrait of regional lifestyles and peoples that are called things like Neckbone and Mud.



5.
Spring Breakers
Is it an indictment of today's narcissistic youth or a celebration of their nihilistic views? Is it a feminist statement about the individuality of women or does it objectify is sexualized young cast? Perhaps the debate among viewers correlates to what's truly at the film's core: the barrage of conflicting messages that assail today's youth on a daily basis. Consider that Beyonce, the epitome of woman power, performed at the Grammys in her underwear while Jay Z sang, "Your breasteses is my breakfestes." One thing is certain, Spring Breakers projects a frank and compellingly raw view of today's teenagers. It's enigmatic filmmaking from a bold talent. Its neon-infused color scheme and overly saturated imagery serve to both examine and speak to a generation raised on Mtv and the internet. It is a kaleidoscopic attack on the senses, a whirlwind of sex and booze set to the electronic stylings of Skrillex. And James Franco has cornrows and a grill.


6.
The Wolf of Wall Street
The Wolf of Wall Street is hilarious. I didn't laugh out loud the way I did during this irreverent look at corrupt New York stockbroker Jordan Belfort more all year. The movie makes no excuses. The character is no different in the 179
th
minute than he was in the first. Yet there is something irresistible about it. Maybe it's Leonardo Dicaprio's energetic performance; or Martin Scorsese's furious pace. His long-time editor, Thelma Schoonmaker, deserves an award every time out. A scene that sees Belfort and his accommodating sidekick Donnie (played by comedic crazy person Jonah Hill) high on quaaludes is an instant classic. I still smile every time I picture Belfort, provided new vigor by a shot of coke, barreling through his wife to get to his dying friend. "Step aside."
7.
Nebraska
Bruce Dern plays a stubborn old man intent on hiking to Nebraska to collect a $1 million sweepstakes prize. It doesn't seem built for mass consumption, yet its austere visuals and mordant humor are resonating with viewers. Shot in stark black a white, a compliment to the sparse expanse of the American Midwest, the film features a career-defining role for Dern. He wears all the weariness of a broken-down old man unsatisfied with the legacy he will leave behind. When asked what he would do with the money, he responds, he'd get a truck, an air compressor and most importantly, leave something to his children. There's a moment when he discovers he's achieved the latter wish and it's truly satisfying. Alexander Payne is a simplistic flimmaker. All the award nominations are a bit baffling. But he creates a refreshingly funny, touching and unfalteringly entertaining movie with Nebraska.


8.
Disconnect
I am typically not a fan of pictures that interweave the stories of several characters. I found Disconnect's cautionary tale, however, to be both powerful and irresistible. A story involving two teen boys using a false female facebook account to contact a reserved classmate is especially timely. Honestly, the film does not contribute much to the discussion of social networking. It's a dangerous world that seems somehow separated from our own and has ensnared each of us at some point. But to see its pitfalls played out on screen is truely harrowing. The film is wonderfully acted and competently directed. Henry Alex Rubin moves seamlessly between the tales in route to an exciting finish. Unfortunately, poor marketing resulted Disconnect going unnoticed by filmgoers and removed from award discussion. Seek it out on DVD.


9.
The Secret Life of Walter Mitty
The Secret Life of Walter Mitty was a welcome surprise, way more engaging than its ads and PG rating let on, smarter than what we've come to expect from director/star Ben Stiller. A lot of people are trashing the film for abandoning the sardonic tone of the Thurber story it's based on. I know nothing about that, I have not read the story. What I do know is that Stiller's version of a day-dreaming negative assets manager (look it up) who goes on a real life adventure more remarkable than anything he could have imagined to save his job is a testament to the magic of movies and their ability to inspire. And that's what good movies do; affect us, take us to places we've never been. Mitty does that perhaps better than any other picture this year.
Werner Herzog and Errol Morris have become synonymous with documentary filmmaking. They are both attached to The Act of Killing. Indonesia, 1965. Local gangsters Anwar Congo and Adi Zulkadry go from scalping movie tickets to scalping alleged communists. All said, they helped the Indonesian military kill more than a million people in a year. The Act of Killing seeks to examine the impact the killings had on the perpetrators by having them reenact the terror. This is a tough watch and not one I will be revisiting any time soon. But it's a tribute to the power of documentary filmmaking and its ability to galvanize viewers. Many horror films employ faceless, emotionless killers to create terror. They are devoid of personality, there is no justification to their actions. We imprint them with our own fears. The Act of Killing puts a face on murder. We are forced to sit with these monsters as they boast about the terrible things they have done.
10 more films I liked:
12 Years a Slave, Afternoon Delight, All is Lost, Blue Jasmine, The Counselor, The Hobbit, Only God Forgives, Pacific Rim, Short Term 12, Stories We Tell
Films I was most disappointed in:
American Hustle, Blue is the Warmest Color, Fruitvale Station, Gravity, To The Wonder